Introducing our portable coffee thermal mug with temperature display, a must-have for coffee fans who appreciate precision and convenience.
This thermal mug not only keeps your coffee hot and tasty for hours, but also displays the temperature of your drink in real time. With its slim and portable design, it's perfect for on-the-go.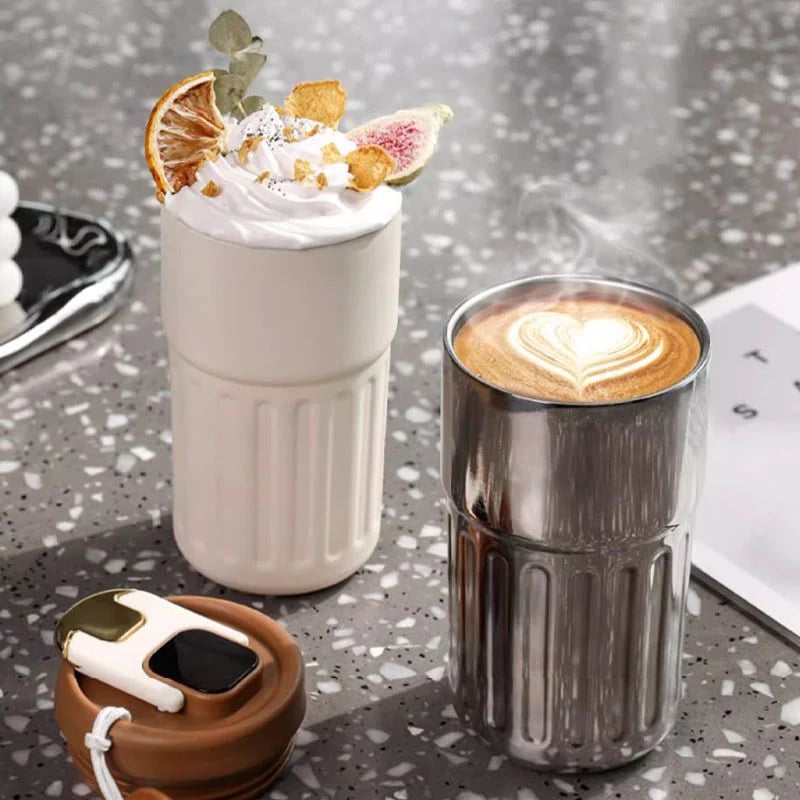 Say goodbye to guessing about the temperature of your coffee and look forward to a perfectly hot cup every time.
FEATURES
* Temperature display: The cup has an integrated temperature display that shows the current temperature of your coffee. So you can easily monitor the temperature and enjoy your coffee at the ideal drinking temperature.
* Thermal insulation: The double-walled insulation of this thermal mug ensures excellent heat retention. It keeps your coffee hot for hours so you can enjoy every sip.
* Leak-proof design: The mug has a secure and leak-proof lid that prevents spills or leaks. You can confidently carry it in your bag or backpack without worrying about unsightly accidents.
* Easy to clean: Thanks to the wide opening and the smooth inside of the mug, it is effortless to clean. Simply rinse it with warm water and a mild detergent and it's ready for the next cup of coffee.
* Portable and practical: Thanks to its compact size and light weight, this thermal mug is easy to carry and fits perfectly in cup holders, backpacks or bags. Enjoy hot coffee wherever you go.
SPECIFICATIONS
Material: 316 stainless steel inner liner, PP lid, silicone seal
Colour: Wine red, Coffee, Blue, Black
Capacity: 450ml
Size:165x80mm
Weight:286g
Lid type: Safe and leak-proof lid
Package contains: 1 * Coffee Thermos
NOTES
Always make sure the lid is tightly closed to maintain the temperature and prevent leakage.
Due to differences in monitor and lighting effects, the actual colour of the item may vary slightly from the colour in the pictures.